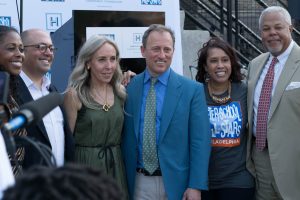 PHILADELPHIA, PA – The sky was blue, the sun out in full force. An occasional breeze offered a refreshing respite to temperatures topping 90 degrees.
There were plenty of reasons to be outside Thursday, especially at Russell H. Conwell Middle School in Philadelphia's Kensington section. It was there that 76ers Managing General Partner Josh Harris and his wife Marjorie were joined by dozens of students, a handful of teachers and administrators, several local dignitaries, and a sizable contingent of Sixers employees in celebrating the launch of Conwell's new After-School All-Stars program.
Funding for this latest iteration of After-School All-Stars, a national non-profit organization, was made possible by a considerable gift from the Harris Family Charitable Foundation, which, over a three-year period, has pledged to contribute $750,000 to the installation of after-school programs in several target geographical areas that include Philadelphia and Camden, New Jersey, home to the Sixers' new training and business complex.
The Harrises felt it was particularly important to support a school like Conwell.
"To be able to come into some of the toughest communities and give kids who aren't as fortunate as we are the opportunity to experience after-school coaching, technology, and even career counseling and homework counseling…I think it's important," said Josh Harris, when discussing his family's gift.
Held on Conwell's playground, Thursday's event was highlighted by uplifting speeches. Principal Erica Green, After-School All-Stars' leadership team, state senator Anthony Hardy Williams (a Conwell alum), and the Harrises were among the speakers. Offering some of Thursday's most telling remarks was Elianna Gonzalez, a 14-year old eighth grader at Conwell. She received plenty of cheers and applause from classmates and adults alike as she spoke about the benefits of having an after-school program to lean on.
"Since we have after-school homework help I got a lot more help on my homework when I don't understand things," said Gonzalez, who aspires one day to be a doctor. "I like that we have volleyball, because the high school I'm going to has volleyball, so I have some practice, and maybe I can play volleyball there. I like the people, and I'm experiencing new things."
After the speeches wrapped up, students watched a performance from the Sixers Dunk Squad. They also had an opportunity to take part in clinics conducted by Director of Sixers Camps Todd Landrey, and Sixers Dancers. Thursday's festivities wrapped up with boxed meals compliments of celebrity chef Jose Garces' catering company.
"The Harris Family Charitable Foundation has given us a very generous donation," said Ben Paul, Chief Executive Officer of After-School All-Stars, which was founded in 1992, and has a presence in 19 territories across the country. "With [the Harrises'] support, we're able to launch new programs. We hope to continue this partnership and expand the program throughout the region in the next few years to the schools that want them."
Prior to receiving its contribution from the Harris Family Charitable Foundation, Conwell Middle School had been stuck on a waiting list for the After-School All-Stars program. "I think it's really important to feel that we're making a difference and giving back to the community," Marjorie Harris said. "We have the privilege to own the Philadelphia 76ers, and with that comes a responsibility to the community. It's not just about owning a basketball team – it's about what the team and the experience does for people. We have to try and make the city of Philadelphia as good as it can be."
"This is like many other schools in Philly," Josh Harris said of Conwell. "After-school programs are being cut all over the country, and they are particularly being cut in areas that are low-income. We're trying to step in and provide programming in the [after-school] timeframe, and keep kids off the streets, and give them a exposure to lots of different things.
"Maybe we'll get a state senator out of it. Maybe we'll get a pro basketball player, a pro volleyball player. Maybe we'll get a bunch of kids into college. I feel this is where we can step in and help where everyone is pulling back."
by Brian Seltzer
Sixers.com Reporter
Posted: May 18, 2017